Exceptional Work you can Trust
Founded in 1956 by Roy and Myrna Sadler, Sadler Machine Co. has steadily grown its reputation over the years into one of the largest and most respected machine job shops in the Upper Midwest.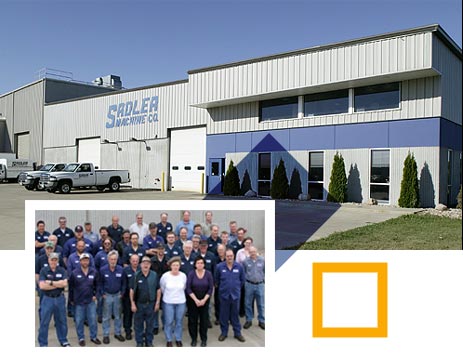 Specializing in repair and small run production machining, this family-owned company is now owned by brothers Tom and John Sadler while Roy and Myrna continue to serve on the company's Board of Directors.
In 1975, the Sadler's founded a second company, Sadler Power Train, which services customers in Iowa, Illinois, and Wisconsin as a distributor of Heavy Truck Parts.
In 1995, both companies underwent an expansion when Sadler Machine Co. moved out of the building it shared with Sadler Power Train and into a new 45,000 sq. ft. climate-controlled manufacturing facility located on a 6-acre site in SW Cedar Rapids. This move allowed Sadler Machine Co. to more than double its capacity and employment of skilled machinists. With the expansion, the company was able to better serve its customer base and the business grew to the level it is at today. In the summer of 2005, Sadler Machine Co. expanded with a 15,000 sq. ft. addition to the machining facility.
---
Continuing Years of Success
For over 65+ years you've been able to count on us as the leading premier maintenance and job shop in the Cedar Rapids area.
With the knowledge needed to complete jobs of all type with a wide variety of industry experience, you'll be able to look to Sadler Machine Co. for help on small and simple jobs as well as large and complex ones. Our team of highly skilled employees are always working to stay educated on the latest in machining, fabrication, and repair.
Sadler Machine Co's mission is to provide quality work and respectable service, as well as develop long term partner relationships with our customers to help ensure the success of both parties in the future.