A single source for your pulp and papermill repair parts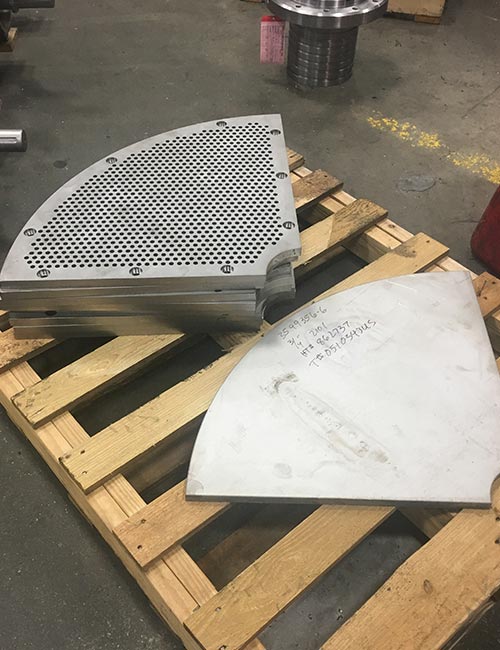 With over 65+ years of experience in machining, fabrication, and assembly, you'll always be able to count on us to keep your machines running at full capacity.
Sadler Machine will produce precision extraction plates that meet your exact specifications by using the most advanced manufacturing processes. We can provide you with standard OEM plate material or 17-4 stainless steel, heat treated at our facility to provide you with increased hardness and up to 30% more life.
Rebuilt or Brand-New Options
With every part that comes our way, we do a thorough evaluation of what's wrong and work with you to decide if it's best to repair or reverse engineer a brand-new part. With over 20 years of working with International Paper, we understand the importance of providing options.
Extraction plates
Separplast rotors
Drive Assembly
Stub Shafts
Rebuilt Rotors
Rotor Blades
Extraction Base Tub
Center Plates
Shafts
Quality and Cost Matter
Using the most advanced manufacturing process, everyone at Sadler has made it their top priority to perform the best work possible, at a price that won't break the bank. As a certified ISO 9001:2015 company, you can be assured that all products are American made and all workmanship is guaranteed.
---
A Team That Can Do It All
We've made it a priority to not only provide you with exceptional repair for pulp and papermill parts, but to also provide you with a wide variety of services to meet all your needs.
From large to small, simple to complex, we have the experience needed to provide the solutions you're looking for. It's our mission to develop long term partner relationships with all our customers to help ensure your success.
Short Run / Prototype
Maintenance / Job Shop Machining
Fabrication
Gear Boxes & Air Locks
Sub Contact Services
Inventory Stock Management
Building
Large Part Machining
Grinding
Stress Relieving & Heat Treating
Information Technology
Machinery
Wind Turbine Repair
Manufacturer Supply