Your leading premier Maintenance and Job Shop
As a cornerstone and founding service to our customers, for 65+ years you've been able to come to us to handle your job.
Whether your job may be small and simple or large and complex, our highly experienced staff will solve your problem in the most cost effective and timely manner possible.
As a well-resourced shop with a large material inventory, we can do most operations in-house. Not only does this help keep your project on schedule and save valuable time, but it will also keep you in budget.
A high level of expertise in the following areas: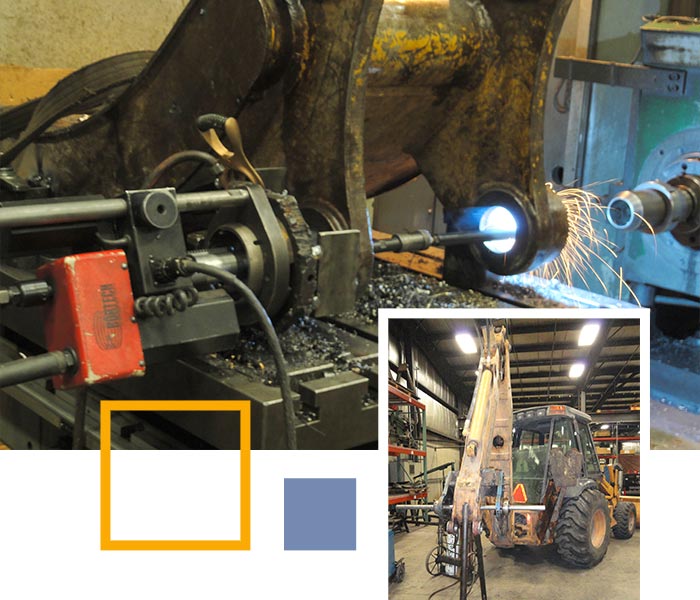 Shaft Repair: Eccentric Shafts, Screen Shafts, Feeder Shafts, bearing and thread repair
Hydraulic Cylinder & Rod: Repair or make new cylinders and rods
Gear Box & Housing Repair: Repair bearing and bushing bores, repair cracked housings
Mixer Shaft Repair: Straighten, repair bearing journals and keyways, Lightnin® and other brands
Pitman and Jaw Base Repair: Repair bearing bores, repair jaw faces, etc.
Axle Housing Repair: Straighten, repair bearing and thread areas, stub on new ends, repair cracked or broken housings
Transmission & Differential Case Repair: Repair bearing & bushing bores
Flywheel Repair: Repair bearing bores
Front Axle Repair: Repair king pin holes in both front axle and spindles, install king pin bushings and inline hone for greater life
Trailer Axle Repair: Straighten, repair bearing and thread areas, stub on new ends
Yes, we can repair Intraxx® air ride axle assemblies and all other models