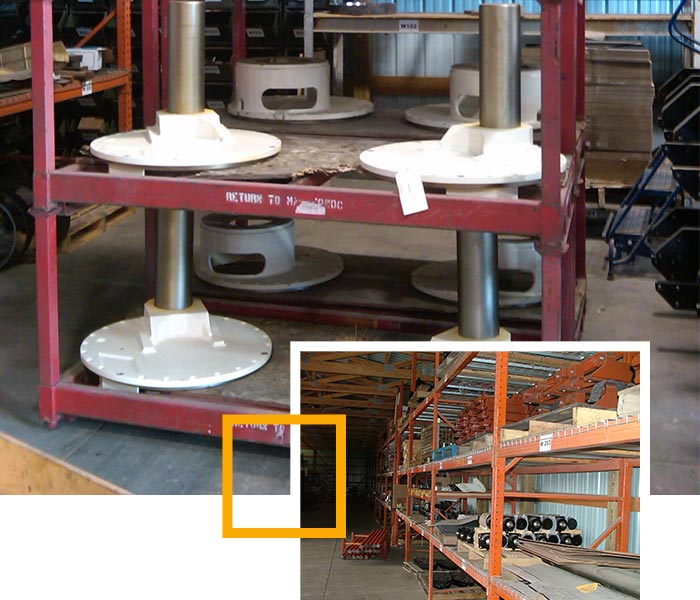 Don't let a broken part slow down business
The last thing you want is for a machine to shut down your entire operation for the days it may take to send the part off to be repaired.
With our convenient inventory stocking programs, you'll always have your machine parts readily available for when you need them most. All it takes is a simple phone call and we'll ship your new part as soon as possible. Keep your business running at 100% with help from Sadler Machine.
---
A Turnaround Time That Works
Thanks to inventory stocking, you'll no longer have to wait the days, or even weeks, it might have once taken to get your repaired or new part back. Because the parts are already created and are simply being stored in our facility, it cuts the turnaround time to that of shipping.
Save Your Space
Having crucial backup parts for your machines isn't a luxury, it's a necessity. Not only can we create the machine parts that are crucial for your business, but we have the space to store them. Let us help you save precious floorspace by storing your extra parts in our facility.
Savings You Can See
Instead of paying for each part individually, when you choose to buy in bulk, you'll pay for a lower bulk price. Your bottom line will thank you. Contact us today and asking about the inventory stocking programs we offer for both large and small part machining.
---
65+ years of experience
No matter what type of project you have, you'll always be able to rely on our team to proficiently handle all your machining, fabrication, and assembly needs.
We know that quality, delivery, and cost matter. That's why we've made it our top priority to provide 100% customer satisfaction every time.